Welcome to Oceanside Jiu Jitsu!
We opened our doors in 2009.
Our goal since day one has been to create a team of great training partners.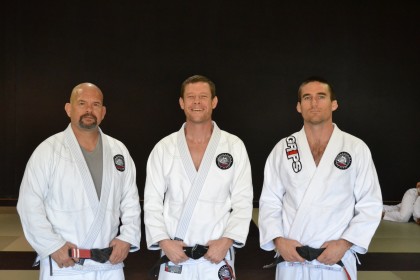 Oceanside Jiu Jitsu was founded by Jeff Gorumba, Nathanael Soli and Brendan Guccione. We settled at our current location in 2012. We now have nearly 100 students and we are growing every year.
If you are interested in becoming a member of this awesome group of people, give s a call and we'll get you started.
Is our system effective?
It is no secret these days that Jiu Jitsu has proven its superiority over all other martial arts when it come to self defense. Brazilian Jiu Jitsu has been implemented in the training programs of professionals the World over. Whether it is military, law enforcement or even MMA fighters, people who's jobs put them in critical situations rely on Jiu Jitsu to keep them safe, and even save their lives.
 There is no "striking" in Jiu Jitsu.
This means almost anyone can safely practice Jiu Jitsu. All of our classes are taught by one of our qualified instructors. This means each student is under strict supervision while training in our academy. Your safety is our number one concern and everyone on the mat is there to help you succeed.
Our mat space is a magnificent.
Not only is our facility one of the largest in San Diego, we also have a state of the art mat system with a "floating" floor that is suspended on foam blocks. If you're going to take a fall, this is the place to do it!